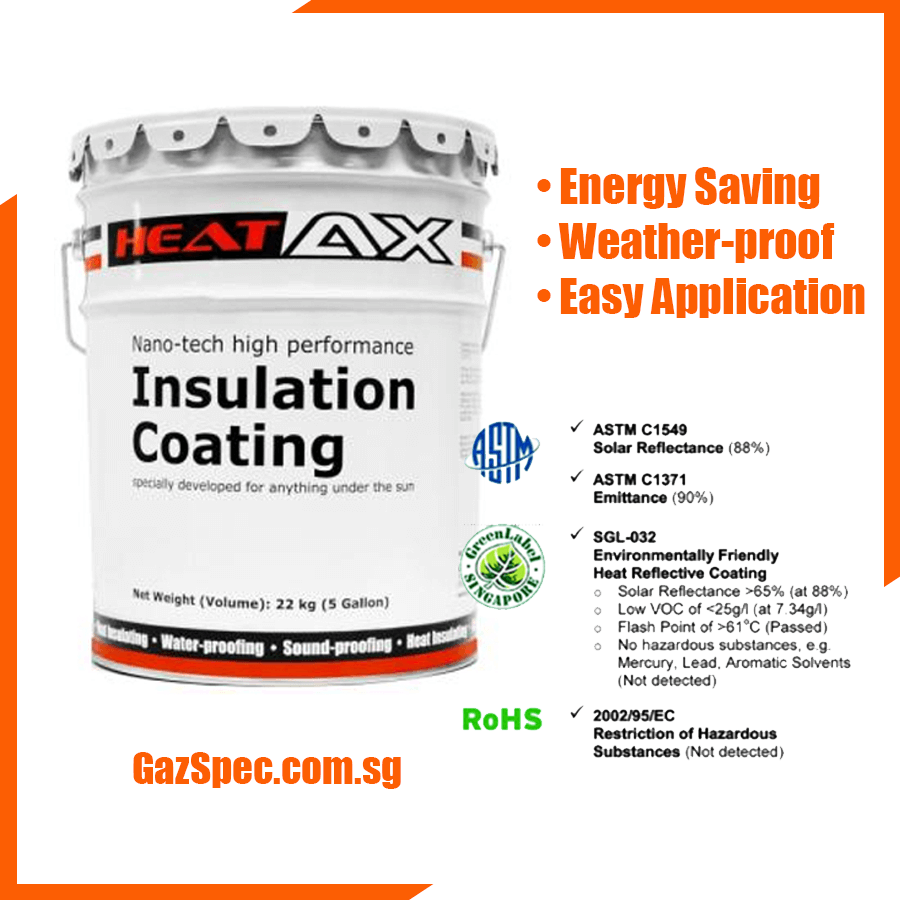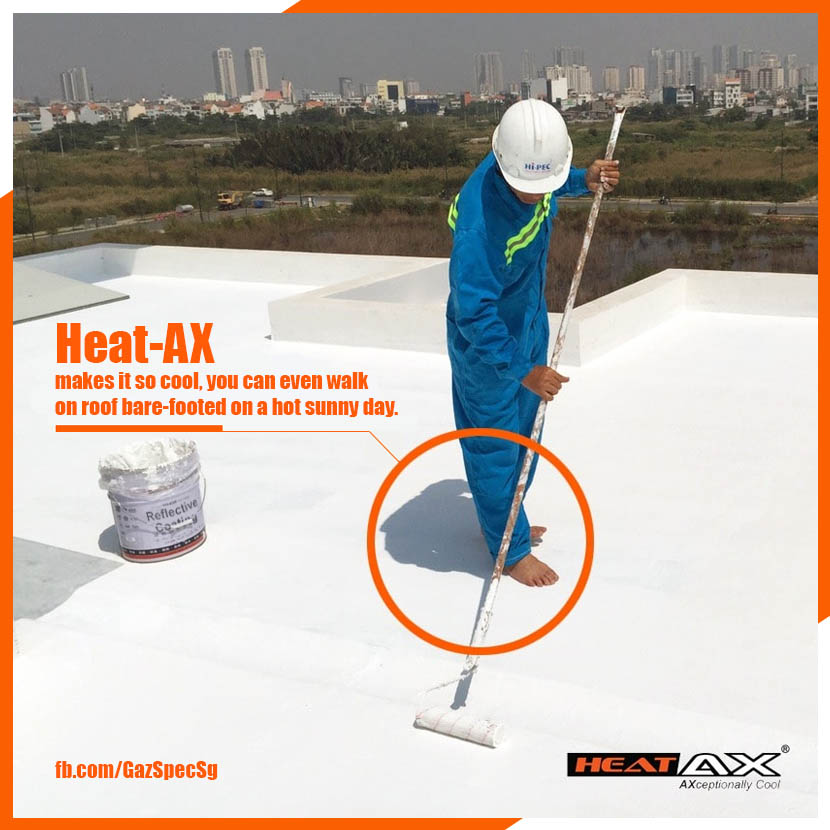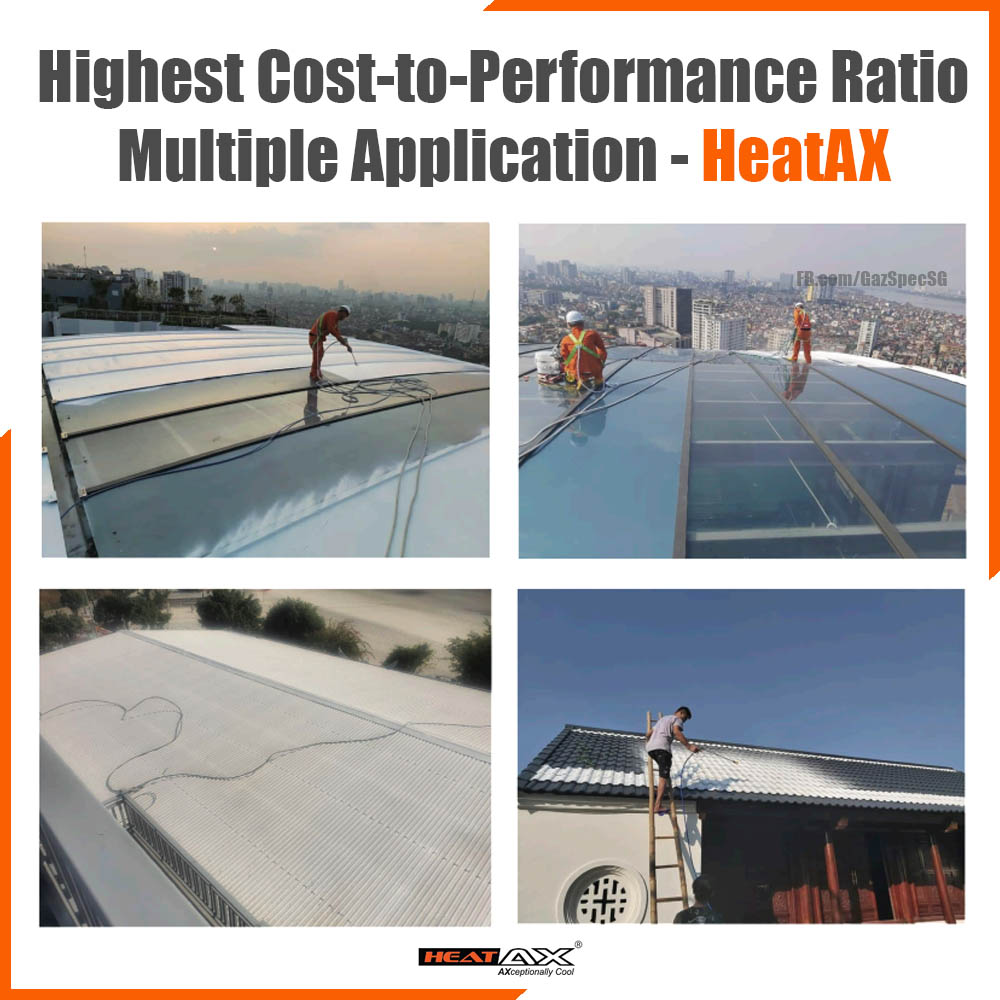 HEATAX Thermal Insulation Coating
Thermal Insulation Coating for exterior roof and wall, that reflects solar energy, keeping the interior cool and thus reduces energy consumption.
HeatAX is a thermal insulation coating (heat reflective paint), that helps keep walls and roofs cool, reducing a building's interior heat.
HeatAX works by reflecting the sun's visible light and energy, therefore minimizing energy absorbed by the roof/wall, all thanks to the utilization of nanotechnology in HeatAX particles.
The strong molecular bonding of the hollow ceramic particles provides excellent reflectivity, together with its thermos-bottle-like characteristics, effectively blocks thermal conduction.
A HeatAX coated building is able to reduce the energy consumption of the air conditioning unit, reducing energy costs.
Homes and offices can also experience a more comfortable working environment, even without air conditioning.
HeatAX coating is also fast-curing, and is able to apply on most surfaces without primer, creating a quick but durable weatherproof protective coating over your exisiting homes, buildings or structures.
Live video demonstration, click here.
Safe and non-hazardous
Harmless to human body and environment Certified by EU RoHS standard to be free of hazardous substances, heavy metals, formaldehyde, and toluene thus not leading to any burden to human body and the environment.
Lasting effectiveness
Strong against all kinds of weather conditions It is equipped with stain resistance, UV resistance, and weathering resistance. Ninano Ultra-Resistant Heat Insulation technology has a service life as long as 10 years with weather endurance.
Building protection
Work as a protective shield for your house It is waterproof and noise-proof with corrosion and rust resistance by forming a protective barrier at the surface of building. This protection will lead to doubled service life.
Energy saving and environmental protection
Making your home a green building Experiencing the honor of Singapore Green Label with the saving of air conditioner expense up to 61% and the effective reduction of carbon emission.
Simple construction
Everyone can be the heat insulation expert It does not require any professional training. The construction can be carried out by anyone using either brush, roller, or spray gun.
A wide range of application
It can be coated anywhere for any purpose It can be coated on metal, stone, wood, and plastic material, which can also be applied to various fields such as livelihood, commerce and industry, transportation, and warehousing.
Reflection
There are three types of energies in sunlight: 5% of ultraviolet light, 45% of visible light, and 50% of near infrared light. These energies will propagate in the form of radiation and bring a huge amount of thermal energy. HeatAX® nano heat insulation coating can reflect 88% of sunlight energy thus preventing the house from absorbing heat even under intensive sunlight.
Blocking
The energy (such as thermal energy or sound wave) is equipped with phonon propagation property in an object, which will propagate into the room through certain media such as outdoor roof and wall. HeatAX® nano heat insulation coating can destroy the energy propagation path based on the property of nano hollow ceramic particle, which works just like the principle of heat insulation mug.
Weather Endurance
"Ninano Ultra Heat Insulation Technology" is about the inter-molecular force generated by the polymerization of the composite material based on Nickel-based alloys (Inconel 625) with high resistance. The hexagonal stack structure is as robust as bee hive.
Ninano demonstrate unparalleled reliability even under extreme working conditions.
Waterproof
Polymer nano material is equipped with two kind of waterproof features. One is to propel the water molecule in the environment outward based on the hydrophobic nature of polymer material, and the other is to prevent moisture from entering the bond due to the capillary pore size being far smaller than water molecule in the nano material.
Any questions regarding this Thermal Insulation Coating Singapore, please send us a message or an email to enquiry@gazspec.com.